#37 Anne and Mark Lackey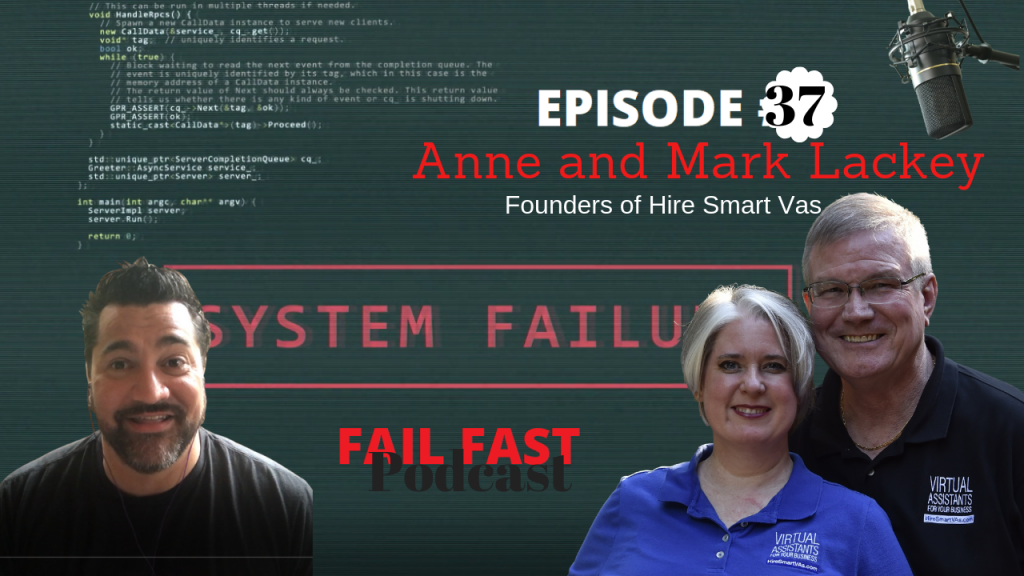 Podcast: Play in new window | Download
Subscribe: Apple Podcasts | Google Podcasts | Spotify | Amazon Music | iHeartRadio | Stitcher | Email | TuneIn | RSS | More
Today the show is 2 for 1, that's right I have 2 guests
These two real estate investors already managed 170 income properties back in 2015

Anne & Mark Lackey own and operate several businesses. They have coached and trained hundreds of investors/business owners all over the US & Canada

In 2015, they determined they were working harder and not smarter, so they embarked on their newest business – HireSmartVAs.com/podcast and we are going to hear all about it
How do you work together as a team?
How did you get started using virtual assistants?
How do you message back and forth
What are some key challenges that HireSmart helps business owners overcome?
What can a virtual assistant do for my business?
How do you help your clients get ready for a virtual assistant?
Why only full-time virtual assistants versus part-time?
How well do they speak English?
How much on average do you save your clients by using virtual assistants?
What is the key to your success in placing virtual assistants?
Since then they have transformed over 60 businesses from chaos & overwhelm to calm, well run businesses making higher profits; their team dynamic contributes dramatically to their ability to scale and grow multiple businesses.

Anne & Mark wrote six books (3 became best sellers in hours) and developed multiple training modules in the area of Real Estate Investing, Property Management, and Business Ownership to help other entrepreneurs grow their businesses.

Anne & Mark love to educate others on how to scale and create business processes; sharing their passion through seminars, webinars, podcasts, and their live radio show "The REI Hour" which aired on 1160AM in Atlanta.
How to find Anne and Mark:
Hire Smart VAs     http://www.hiresmartvas.com/
The best selling book for Free http://www.hiresmartvas.com/podcast