Aaron Selkrig of Selkrig Performance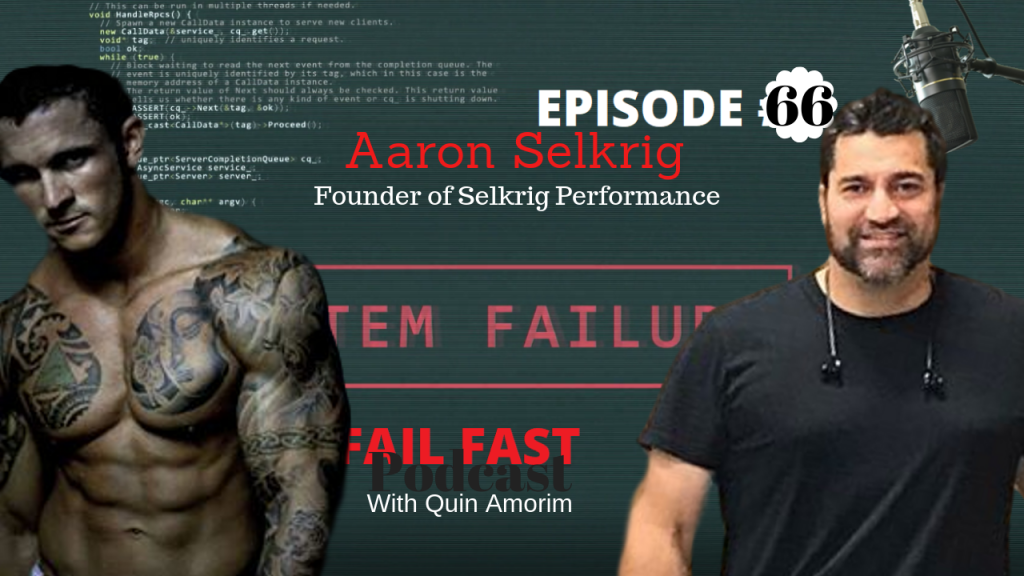 Podcast: Play in new window | Download
Subscribe: Apple Podcasts | Google Podcasts | Spotify | Amazon Music | iHeartRadio | Email | TuneIn | RSS | More
Welcome back my friend, this is Quin and Today I have a guest who enrolled in The Australian Army When he was 17 years old and became an army combat fitness instructor for 6 years.
He once started a tattoo shop in Thailand, he also started and was able to grow Selkrig Performance Unit into a million dollar company in Helsinki Finland.
Let's welcome Aaron Selkrig
Aaron why move from Australia to Finland?
How does someone start a tattto shop in Thailand, and what were you doing there?
Do you have any stories of how you failed fast?
What are some simple tips to improve the health and fitness of busy CEOs and business owners?
What is the most efficient way to get results in the gym if you are busy?
One of the big things that can cause problems is recruiting the wrong people. How do you handle this?
Most people will tell you they don't have time to workout, how do you fix that belief?
How big is your team?
How do you find leads for your business?
How do you get rid of time waster leads?
Do you also have your brand of products?
What is the best way to get a 6 pack?
Tell me how someone remotely can join
What can I do if I have low energy and spend most of the day feeling tired?
As a busy entrepreneur who spends 80% of his awake time in front of a laptop selling products on Amazon or Walmart, what can I do to stay fit, without spending to much precious time doing it?
I once bought an electric shock ab machine that would make my abs contract. Do these work?
What percentage of being fit comes from what you eat, or how much you eat?
How important is mindset for working out and being fit?
I was a personal trainer in the Australian Army. I then moved to Thailand running camps and training there which is where I met Sanni.
After we moved here I started a business (I messed it up…..) We had a Healthy food prep company. "Fitmeals"
Long story short we closed that company and I went back to doing what I really love.
Aaron leads Selkrig Performance Unit, a fitness den for busy entrepreneurs where Aaron and his team transform how you think about exercising and being in the gym with programs custom tailored specifically for each person.
He also runs a revolutionary virtual coaching program for entrepreneurs who want to have Aaron on their side and experience his life-changing coaching, but don't have the time to travel all the way to Finland.

This Aussie training champ has a drive and determination as only a few have. He even moved to a new country with a totally different language to start his own business!

It is not within his nature to give up on himself or you; if you are lucky enough to train with him you'll experience his special caliber of grit and heart for yourself.

When he's not at the gym training people and building the company, he devotes his free time to reading, playing sports, traveling to Thailand to train MMA, and supporting charities for the youth and sports.
"Our Story
SELKRIG PERFORMANCE UNIT·
We help business owners and business executives look better, feel better and perform better in our exclusive private gym in Punavuori.
We focus on three core elements.
Activity, Nutrition, Sleep/recovery."
BUT, we don't just give you a diet and a training program and charge you a bunch of money and give you access to our app.
We build the program WITH you. This way you have a say as to what you would like to do. Making sure that you actually do the program!
When building the program based on our methods we motivate you to take ownership of the program.
Links:

https://www.facebook.com/aaron.selkrig88
https://www.instagram.com/aaron_selkrig/
https://www.linkedin.com/in/aaron-selkrig-4bb957a4/