Entrepreneur, Keynote Speaker, engineer, and University Professor- Agostino Marengo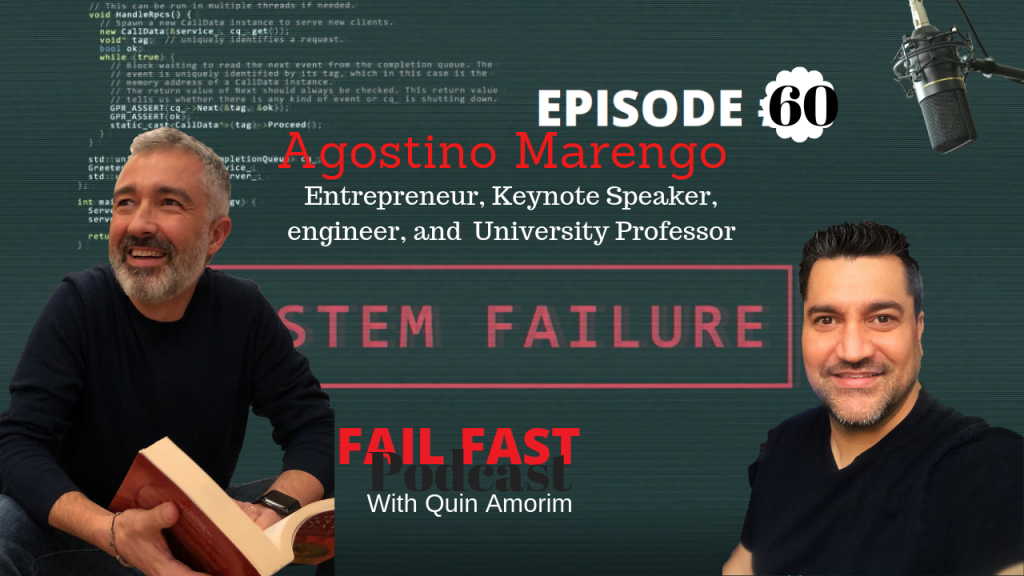 Podcast: Play in new window | Download
Subscribe: Apple Podcasts | Google Podcasts | Spotify | Amazon Music | iHeartRadio | Stitcher | Email | TuneIn | RSS | More
Entrepreneur Keynote Speaker, engineer, and University Professor- Agostino Marengo
Who are you, a brief storytelling
Definition of mentor
As a mentor what made you see a potential in Millennials, students or young managers or entrepreneurs?
What is the main lack of a millennial generation?
What are the skills they need to succeed in life?
Why do you like working with Millenials?
What is "Future Self Proud Method"
How do you get clients for your business?
What are your favorite tools?
What would you implement into the current education system that isn't already apart of it?
Osel.it is your business?
Who is Agostino Marengo
Engineer, I love airplanes because I like flying.
University Professor, I love young people because they can fly.
Entrepreneur, I love challenges because they allow me to fly.

I like to call myself a romantic entrepreneur as if to say, I suffer from corporate romanticism.
I am in love with my company which is small, dynamic, determined and resolute, operating in the field of online training, better known as e-learning, a term that does not fully make sense of what we do.
Over the years I've seen so many talents – talents in marketing, sales, visionaries, humanists, cinephiles, screenwriters, nerds, software developers, gamers, designers of virtual environments… Talents make the company grow, improve it, change it, grow with it and shape it.
All my life I have invested in people convinced that their growth would have been my growth.
I discovered that I love working with and empowering MILLENNIALS as Executive Coach!
MY PAY OFF: Live like your Future-Self is watching you!
⦁ – Professional growth Mentor
⦁ – Researcher on Training Innovation
⦁ – Consultant in HRTech project and development
⦁ – Digital training Consultant&Contractor, Instructional Designer, Project Manager since 1994.
⦁ – Co-Founder and Owner at OSEL Srl (more: osel.it) – Spin Off Company of the University of Bari.
⦁ – Assistant Professor in Informatics @ University of Bari.
⦁ – Professor on contract @ LUMSA University.
⦁ – International Partner @ European and Arab Ministries and Universities on e-learning development projects.
⦁ – Coordinator of some Tempus European Projects.
⦁ – Coordinator of Internationalization Team at University of Bari. Economics&Finance Department.
LINKS:
Instagram: https://www.instagram.com/agomarengo/
Twitter: https://twitter.com/agomarengo/
LinkedIn https://www.linkedin.com/in/agostinomarengo/
Facebook: https://www.facebook.com/agomarengo/
Freemium: https://agostino-marengo.thinkific.com/courses/freemium-section