JEFF FENSTER – Founder of Unevolve, Everbowl, WeBuild, Real Happy Foods, and Super Fuel Coffee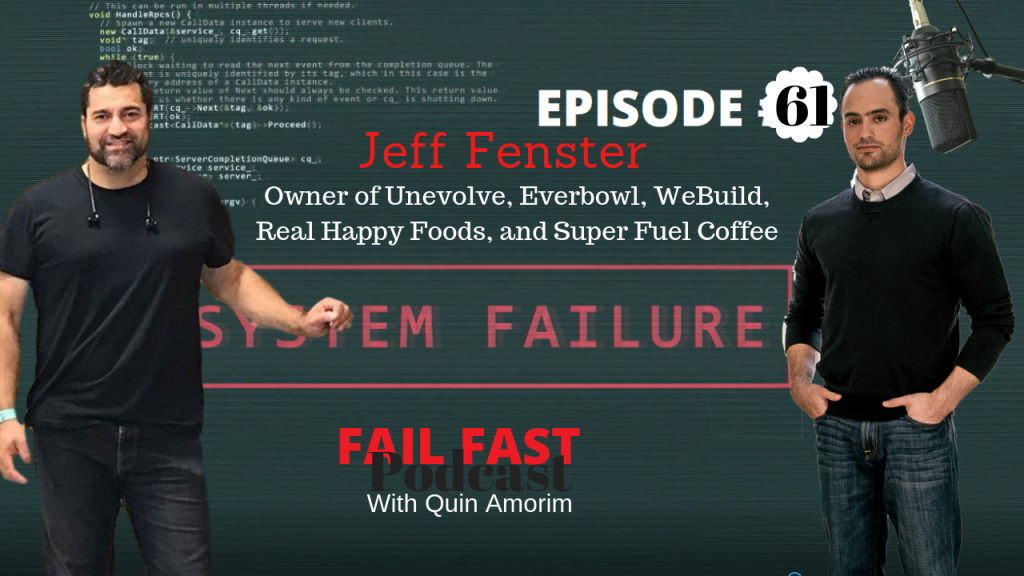 Podcast: Play in new window | Download
Subscribe: Apple Podcasts | Google Podcasts | Spotify | Amazon Music | iHeartRadio | Stitcher | Email | TuneIn | RSS | More
Juris Doctor from Thomas Jefferson School of Law, a serial entrepreneur who was named a top 100 entrepreneur under the age of 35 in America when he was 30.

He's been recognized nationally for his business creations ranging from a Payroll & HR company, Digital Marketing Agency, Recruiting Agency, the list goes on.
Jeff Fenster
Combining his two biggest passions – entrepreneurship and healthy living – Jeff created his most recent innovation, Everbowl.

He has built this explosive brand utilizing his personal philosophy of making friends and having fun and this has translated into a fun, vibrant culture at Everbowl.
This philosophy has allowed Everbowl to be named one of America's Top 40 Hottest Fast Casual Startup's by QSR and a top 100 Mover and Shaker in the Nation by Fast Casual.
Jeff has recently launched a Superfood infused coffee company – Super Fuel Coffee; a construction company – WeBuild; and a Superfood import company – Real Happy Foods.
What is a serial entrepreneur
How did you get into it
Was your family entrepreneurial?
Who is someone you see as a mentor?
How have you been successful
What is Unevolve
What is Everbowl
How did you come up with it
what year did it start?
Give us an example of what one would find in a bowl?
How many locations?
Day after day we hear more and more about
Did you turn it into a franchise, or you operate all locations?
How many people in your team at this point?
When I hear natural, organic, non-gmo, I think "expensive" is that the case?
What is Superfuel Coffee
How did you come up with that
Acai berry comes from the acai palm tree, antioxidants and brain fuel, also have healthy fats and fiber
Where can customers buy it
Any plans to expand to Amazon (or Internationally)
What else are you working on now?
What are your plans or goals for the future?
Links:
Unevolve – http://www.everbowl.com/unevolve
EverBowl – http://www.everbowl.com/
Superfuel Coffee – https://superfuelcoffee.com/
Jeff Fenster on Instagram – https://www.instagram.com/fensterjeff