Founder and President of Leading Leaders Inc. – Jeffrey Spahn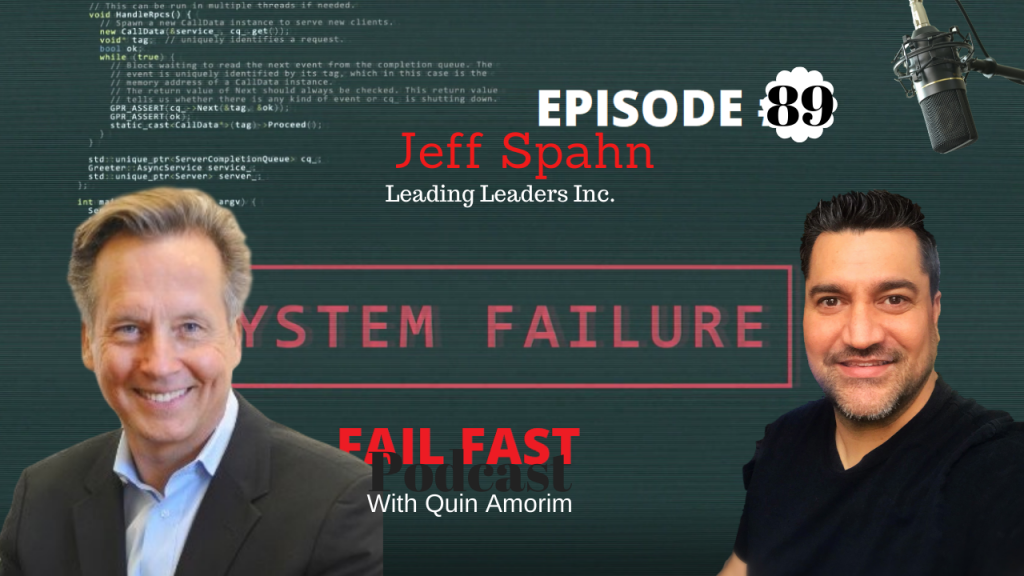 Podcast: Play in new window | Download
Subscribe: Apple Podcasts | Google Podcasts | Spotify | Amazon Music | iHeartRadio | Stitcher | Email | TuneIn | RSS | More
Jeffrey Spahn is the Founder and President of Leading Leaders Inc.

Jeff has integrated insights from business and philosophy, arts and athletics, science and spirituality to develop the distinctive leadership practice, Simultaneity™.

A degree in business from the University of Michigan and a doctorate from the University of Chicago ground Simultaneity™ in sound scholarship.

After more than twelve years of executive leadership, he taught business graduate students and conducted research on the purpose of business. During this investigation, he engaged many of the top executives in the United States.
Jeff enjoys experiencing live jazz and swimming in natural water.
Questions from Quin to Jeff Spahn
⦁ How is our current definition and practice of leadership failing us?
⦁ How can leaders leverage their ignorance and their intelligence?
⦁ Leadership is evolving, are you?
⦁ How can not having the answers increase a leader's authority and success?
⦁ How is the complexity of today's world and the subsequent increase in failure the perfect storm for sustained collective flow?
⦁ How can leaders' limits become the portal to exponential potential?
⦁ How do leaders lead leaders?
⦁ How does a leader exercise agility and speed in an ever-increasing complicated world?
⦁ what makes a good leader
⦁ born leaders?
⦁ too many leaders?
⦁ convince vs converse
Selected Publications:
"Magic of Mutual Leadership." Developing Leaders Magazine
"3 Steps to Empathic Active Listening." FPA's Practice Management Solution (March/April 2012).
"Transforming (Not Overcoming) Objections." Advisor Perspectives (November 2011).
"A New Capitalist Manifesto?: Re-imagining Business in the 21st Century." Virtual Strategist (Spring 2004).
"The Leading of Leaders in the Boardroom." Directors & Boards (Winter 2003).
"Honest Boardroom Communication." Director's Monthly (November 2002).
"Leading Leaders: The Art of Peak Performance." Velocity, vol. 4, no. 2 (2002).
Links to Jeffrey Spahn