Founders of Midwest Park Capital, Jonathan Tuttle, and Cristian E. Dukes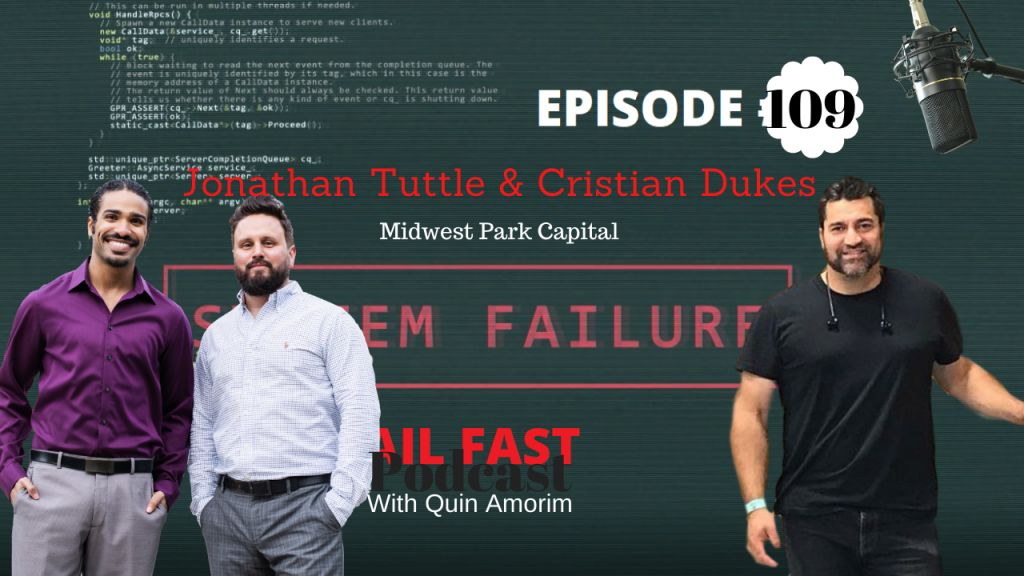 Podcast: Play in new window | Download
Subscribe: Apple Podcasts | Google Podcasts | Spotify | Amazon Music | iHeartRadio | Stitcher | Email | TuneIn | RSS | More
Jonathan Tuttle and Cristian E. Dukes
Jonathan Tuttle Having an extensive real estate background, knowledge, and experience that started very early growing up in a real estate family where his father was a general contractor for over 75 custom homes including being selected as a preferred home builder by Inland Real Estate.
Cristina Dukes Head Of Investor Relations At Midwest Park Capital
Cristian began his career working within mortgage banking at Cambridge Realty Capital, specializing in senior living and healthcare facilities to offer creative financing opportunities and assist in helping with divestiture of the portfolios.
QUESTIONS for Jonathan Tuttle, and Cristian E. Dukes
Before you were the Number 1 sales producer in the United States out of over 9,000 associates at women's clothier, Bebe?
How much would you sell per year?
What inspired you to take on this venture together?
What exactly do you do in real estate?
How are these different from other investments?
Where do you see the future of this niche?
Can it ever become overcrowded? (too many people trying)
How is the real estate business holding up during COVID and protest times?
What do you wish you knew when you first started out in business?
What is one of the biggest lessons you have learned as an entrepreneur?
Do you have mentors?
What advice would you give someone wanting to pursue a career similar to yours?
If you could pick anyone in business, who would you like to spend 24 hours with?
What are the best resources that have helped you along the way?
What are tips to make a partnership relation stay healthy?
What is one common misconception about your industry that you want to debunk?
What good business opportunities do you see happening in the future?
COMPANY:
Midwest Park Capital
Midwest Park Capital is a private real estate investment firm providing accredited investors with exclusive access to high yield investment in the mobile home park vertical.
Our fundamental strategy is to assemble a diversified portfolio of low risk, high cash flow mobile home park assets with the goal of delivering capital preservation consistent quarterly cash on cash income paired with equity growth.


LINKS:
https://MidwestParkCapital.com
https://MidwestParkCapitalFund.com/
https://www.linkedin.com/in/jonathantuttle1/
https://www.linkedin.com/in/cristian-e-dukes-a6292b96/
https://www.mobilehomewealthacademy.com/