Richard Jacobs and The Good Night's Sleep Project | Ep #70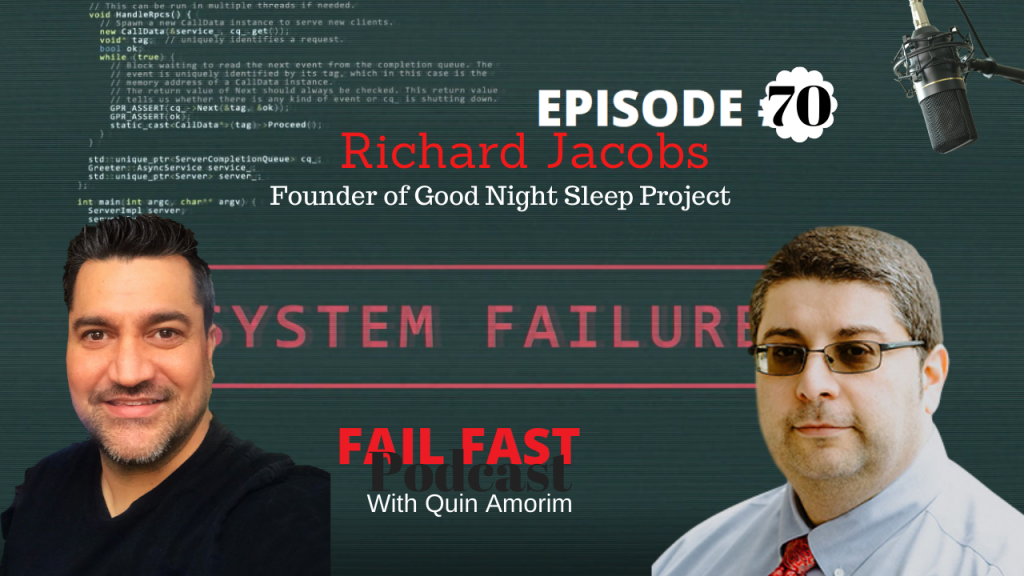 Podcast: Play in new window | Download
Subscribe: Apple Podcasts | Google Podcasts | Spotify | Amazon Music | iHeartRadio | Email | TuneIn | RSS | More
Richard Jacobs
In October 2016 Richard Jacobs started The Future Tech Podcast and has now interviewed over 1800+ companies in artificial intelligence, stem cells, 3D printing, gene editing, bitcoin, blockchain, the microbiome, quantum computing, virtual reality and space exploration and more.
Richard also has 10 years of experience as CMO (chief marketing officer) of Speakeasy Marketing, Inc, a firm that has helped over 900 attorneys nationwide to improve their law practices.
Richard is also the author of 5 books, and his newest venture, The Good Night's Sleep Project, features his patent-pending custom-tailored-pillow.
The custom-tailored-pillow idea came from Richard interviewing over 110 sleep professionals, and dealing with his own sleep issues for the past 20+ years.
Let's start with the Future tech podcast:
What made you start the podcast in 2016
Why such topics when you were clearly working with attorneys for 10 years
It seems like the perfect guest for your show would be Elon, has he been contacted yet?
What's your background?
Sleep apnea and snoring
To have submitted a patent on a pillow you must have something out of the normal?
What is different from any other pillows
is The Good Night's Sleep Project just the pillow?
Falling asleep fast means I am sleeping well?
Links:
https://www.goodnightssleepproject.com/
App: Custom pillow maker
5 books including:
Secrets of Attorney Marketing Law School Dares Not Teach
The Ultimate Guide to Local Business Marketing (Ultimate Series) (co-author)
Bitcoin, Ethereum & Blockchain: Lessons Learned From 200+ Interviews of Blockchain Companies.
RJ@futuretechpodcast.com