The most spectacular business failure in the history of Australia, Fairfax Media with Warwick Fairfax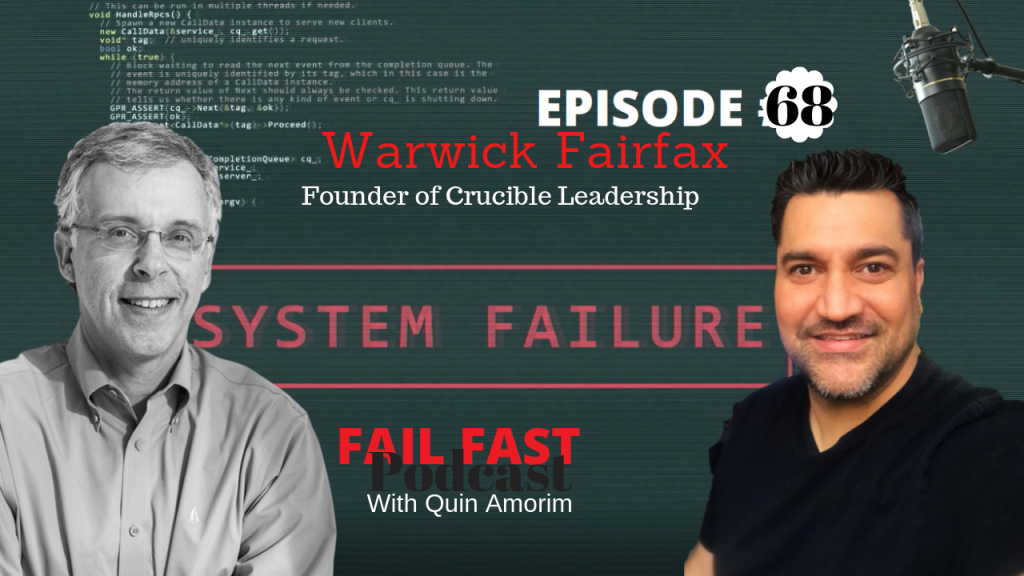 Podcast: Play in new window | Download
Subscribe: Apple Podcasts | Google Podcasts | Spotify | Amazon Music | iHeartRadio | Stitcher | Email | TuneIn | RSS | More
Warwick Fairfax, A Harvard Business school graduate is the founder of Crucible Leadership.
Fairfax was once in the epicenter of one of the most spectacular business failures in the history of his home nation of Australia, by losing a 150-year-old Family business Fairfax Media
2.25 Billion AUS is 1.6 Billion USD
Let's start with that huge failure and then we'll jump on to the present and learn all about Crucible leadership.
Some of the Questions Asked
How does one recover from such a failure?
Did it affect you emotionally as well?
Why is vision so important to truly moving beyond failure?
Why don't more business leaders talk about failure?
What are three ways you can turn a vision into reality?
What is a "crucible experience"?
What does it mean to live a life of significance as opposed to success?
Why did you create Crucible Leadership?
In August 1987, I launched a AUS $2.25B takeover bid for John Fairfax, Ltd. It was considered one of the largest takeovers in Australian corporate history at the time.

Warwick Fairfax
Fairfax was only 26 when, as the fifth-generation heir to a media empire bearing his family name, he led — and lost — a multibillion-dollar public takeover bid.
The result? The company founded by his great-great-grandfather slipped from family control after 150 years, leaving him to examine not only his own shortcomings and losses but also his life's principles and the lessons he learned from family members who came before him and some of history's greatest leaders.
It has been by shaping these insights, as a leadership advisor and executive coach, that Fairfax has enabled others to learn from what he describes as their own "crucible moments" and emerge to lead a life rooted in who they are.
His journey has opened a door for men and women from all walks of life to not only bounce back from failure but to become the leaders they were born to be from the boardroom to the living room.
Fairfax holds an undergraduate degree in Philosophy, Politics, and Economics from Oxford University and earned his MBA from Harvard Business School. He is an International Coach Federation (ICF) certified executive coach. He serves on the Board of Annapolis Area Christian School and is an Elder at Bay Area Community Church
He lives in Annapolis, Maryland, with his wife, Gale. They have three children who are in the process of developing their own unique paths to lives of significance.